Posted on
By Vanessa Raven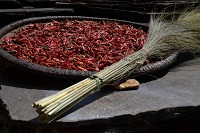 A Witches Broom, also known as a besom, is a broom that is created from twigs or herbs. It is traditionally used for "sweeping" out negative energy and in positive energy. It doesn't actually touch the floor as it is used for energy and not actual dirt. Usually they are small, the size of a whisk, or up to 4 feet long.
In handfastings, the besom is decorated with flowers and ribbons and the couple jumps over it right before they walk down the aisle together as a bound couple to represent the movement from one phase of their lives as single into the next phase as a couple.
The besom is placed as a decoration over the entryway of a house, bristles down, to "sweep off" any negative energy that a person may have attached to them when they enter your home.
An Easy Way To Make Your Own Besom!
Materials:
Four foot dowel or stick (1 inch in diameter.)
Ball of twine
Scissors
Straw, twigs, or herbs for the bristles
Take the straw, and allow it to soak overnight in warm, lightly salted water. (the water softens the straws to make them pliable, and the salt soaks out former energies.)
When you are ready to make your besom, remove the straws from the water and allow them to dry a bit, but not so much that they lose the suppleness you will need to turn them into your besom.
Find a work area where you can lay out the length of your dowel, and begin lining the straws alongside the dowel.
Starting about three inches from the bottom, lay the straws, moving backward, along the length of the dowel. Begin binding these to the dowel with twine. You will need to tie them very securely.
You can add as many layers of straw as you wish, depending on how full you would like your besom to be.
When the straw is secured, bend the top straws down over the twine ties. When they are all gently pulled over, tie off the straws again a few inches below the original tie. Leave the besom overnight to allow the straw to dry.
The dowel part of the besom can be stained, painted, or decorated with pagan symbols, your craft name, or any other embellishments you choose. Dedicate your finished besom in your circle as you would any other ritual tool.
Looking for a customized besom? Please send an email through the contact form. I make them from very small to quite big sizes. It is also possible to personally design a besom for protection, spell work and handfastings!
Text @Ms. C. Criswell