Geplaatst op
Door Ms. Jessie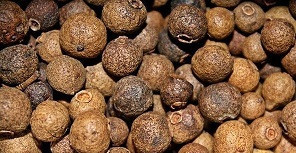 Vandaag een blog over een bijzonder kruid: Allspice, bij ons bekend als piment. Ook nu een kruid uit het keukenkastje waar je veel magische mogelijkheden mee hebt. De blog is, anders dan wat je bent gewend, geschreven in het Engels. Deze essay heb ik eerder geschreven voor een Amerikaans magazine, dus er is (nog) geen Nederlandse vertaling van.
The magic of Allspice
(Eugenia pimento, Pimento officinalis)
One of the things I like the most about Allspice is that this is a very versatile herb, ánd is find in most people's cupboards. I am a big adversary of keeping your magic as simple as possible, and preferably to draw your magic out of your kitchen. Allspice is a wonderful spice that is used magically for the purpose of bringing good fortune in business, money matters, games of chance, and to relieve mental tension.
Allspice is considered masculine, and is associated with the planet Mars and the element of Fire. Other names for Allspice are Jamaica Pepper and Clove Pepper. Additions you can use in your magic work, to strengthen your magic endeavors is combining Allspice with alfalfa (enhance with power), alligator foot (enhance with luck), bayberry (enhance with wealth), benzoin (enhance peace of mind), buckeye nut (enhance luck in gambling, nutmeg (enhance luck) and pyrite (enhance business). Cunningham emphasizes on the use of Allspice in love matters.
Although most sources name Allspice as the herb for all kinds of money, luck and wealth magic, Scott Cunningham name this herb specifically as a herb to work all love magic. And in this sense he has a point. With the element of fire, ruled under Mars and having the qualities of love this should be a herb with a lot of strength on all love matters. The difference may occur due to regional differences. Most books and websites I either cite or use for information are based on the American cultures and traditions. Cunningham specifically bases the use of Allspice from European gypsy tradition. This is the one explanation I can think of, based on what I read. So far the only website that uses both money and love correspondences is Herbal Riot, who is a new source for me. I will use the double correspondence of Allspice too from now on.
Allspice has meaning in a lot of cultures and traditions. One is the use of Allspice in flavoring chocolate by South Americans, while Mayans use Allspice as an embalmment. The flavoring of chocolate with Allspice is interesting according to the love magic connection, since chocolate is a well-known aphrodisiac food. So Herb Riot seems so know it's sources and magic. The flavoring of meat with Allspice is common in cooking, so here are some magic possibilities too, to romance your lover with some nice meat.
It is thought that the Spanish have brought Allspice to Europe from the West Indies. It is believed that Allspice in this way has mingled with European local food and magic traditions. The name Allspice probably derives from the scent "of all spices". Despite many attempts, Allspice has never grown in the wet and cold European ground.
Since the prosecutions in Europe on them with the wrong faiths and believes it makes sense that at least the gypsies has brought their love use of Allspice along with them on their flight to the new world a few centuries later. Hoodoo, the tradition I am from, is known for the mingling of European, African and American magic traditions, along with native traditions. This also shows in the use of Allspice by the Arawak Indians in cure and healing activities. The other name for Allspice, Jamaica Pepper, supports this view too, since Jamaica was known for their slave pantries.
Allspice has many magickal uses. Burning the ground form in incense is seen, along with the use of Allspice in mojo's and lucky charms. When burned as an incense the correspondences of purification, psychic powers, meditation, psychic awareness, purification, inspiration, wisdom and visions are added to the mix of correspondences. In this sense Catherine Yronwode only mentioned this specific use sideways when advising to combine Allspice with benzoin for peace of mind, an important attribute to meditation and the here above named uses for Allspice in incense.
Based on my personal experience Allspice is not my first choice in use for meditations. For starter, the scent is so spicy and herbal, it would not sooth my mind for calm. The second are just looking at the correspondences, Mars and Fire, these are energies with force and a lot of movement. Personally meditation belongs to the elements of air and water's intuition. Scott Cunningham is not even mentioning this at all. Even when placing incense in the element of fire, with a lot of imagination, it still is a too hot ingredient, magically speaking, to consider Allspice as an incense for the mind.
Medically speaking Allspice is a great addition in all healing matters considering the elimination of inflammation, to give relief from arthritis, muscle aches, and pain reduction by accidents. As in magically speaking, like causes like, Allspice fits the principle of Homeopathy too. Samuel Hahnemann, originator of homeopathy claims that a substance that causes the symptoms of a disease in healthy people would cure similar symptoms in sick people.